Inside "Revenge of the Scapegoat"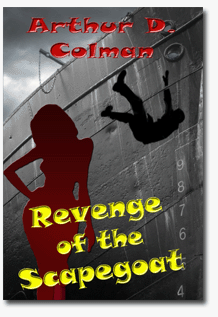 $14.95 / $9.95 Kindle Edition

A New Psycho-thriller by Arthur D. Colman
"What Joe did to me took two years of my life. To him, it was just one of his little games, but it destroyed my world. What he did to me feels different now, though. You said that revenge is a psychological process that can be transformative. Well, it's happening. This may sound foolish, but I can almost feel myself ... evolving." – Debra Jean Lieberman
A crass sexual advance by her famous boss and mentor leaves Debra Jean not only traumatized, but out of a job. Struggling to maintain her dignity and regain her passion for life as a young and promising research scientist, Debra Jean turns to Revenge, Inc.'s Wiley Stone and Dave Blue — and so begins Arthur D. Colman's second adventure in retribution, here served up steaming hot, "Revenge of the Scapegoat."
Wiley and Dave are challenged the moment they accept Debra Jean as a client: on closer examination, it appears their opponent is dabbling in perversions that go beyond the pale and directly into the dark side of genius, power, and human corruption — this is to be psychological payback at its most cunning and cutting edge. Like his name, Joe Diamond slashes his way through life and lives.
From the glass towers of San Francisco's biotech valley to the controlled magnificence of China's Three Gorges Dam, the battle is on to bring this mad man of science, who collects and destroys souls as easily as proteins in his petri dish, to justice. It's no easy task.
Diamond is a formidable opponent, a master manipulator of mind-game weaponry. And in the dramatic endgame, he deftly challenges the premise of revenge itself, forcing his pursuers to reexamine their own motives and setting the stage for a fateful encounter with chilling consequences.
As he did in "Cloud of Terns," Colman satisfies our most basic of human emotions: the desire to fight back when wronged — eye for an eye-style.
Vengeance is not for sissies, and "Revenge of the Scapegoat" makes this crystal clear. As Blue confides to Debra Jean in "Revenge of the Scapegoat," "Once revenge is let loose, it has a way of getting out of hand. So we try to do our homework, understand motivations, all to get a little control over the uncontrollable."
Praise for "Revenge of the Scapegoat"
Arthur Colman's Revenge, Inc. is back — and that's great, spellbinding news! Because REVENGE OF THE SCAPEGOAT is a compulsive page-turner. Some people are above the law, or so they think. And brilliant scientist Joe Diamond is one of them: from brazenly public sexual abuse in an elegant San Francisco restaurant to life and death S&M ceremonies involving children, Diamond is insulated by both his genius and his mastery at manipulating everyone else. Until one of his victims turns to Revenge, Inc.
From California to China to the Nobel Prize ceremonies in Sweden, this gripping tale is filled with tantalizing characters who seduce the reader into their high-stakes games. Games where the unexpected revelations change the rules and realign the players — at the most crucial times. This is one that will haunt you for days after you think you've finished with it."